2017, Envi­ron­ment / Instal­la­tion, Video-Loop THE MAKING OF (3:34 min), Klein­gartensparte, Leipzig. Doku­men­ta­tionsvideo NR.105 (4:49 min).
Eine ver­wilderte Klein­garten­parzelle wird zu Spielfeld und Pro­jek­tions­fläche für die Chiffre Natur: Sur­vival und Aben­teuer ver­sus Deko­ra­tion, Sin­n­find­ung und Magie ver­sus Exotik und Luxus. Zwis­chen Garten­za­un und Rasenkante stellt NR.105 vorhan­dene Begren­zungslin­ien in Frage, zer­legt die Bestandteile des Gartens und nimmt Bezug auf die unmit­tel­bare Umge­bung der Klein­gar­te­nan­lage – so auch im Far­bkonzept Anthrazit/Rosa/Gold. Eine Beleuch­tung des Neben- und Ineinan­ders ver­schieden­ster Ord­nun­gen und Sys­teme in ihren verän­der­lichen Prozessen. Eine bege­hbare Ver­such­sanord­nung zu Abgren­zung, Kat­e­gorisierung und Zuschrei­bung.
An aban­doned allot­ment plot becomes a play­ing field and pro­jec­tion sur­face for the cipher of nature: sur­vival and adven­ture ver­sus dec­o­ra­tion, the search for mean­ing and mag­ic ver­sus exoti­cism and lux­u­ry. Between the gar­den fence and the edge of the lawn, NR.105 ques­tions exist­ing bound­ary lines, dis­sects the com­po­nents of the gar­den and refers to the imme­di­ate sur­round­ings of the allot­ment gar­den site — as in the colour con­cept anthracite/pink/gold (cf. black/red/gold). An illu­mi­na­tion of the jux­ta­po­si­tion and inter­play of the most diverse orders and sys­tems in their chang­ing process­es. A walk-in exper­i­men­tal arrange­ment on demar­ca­tion, cat­e­gori­sa­tion and attri­bu­tion.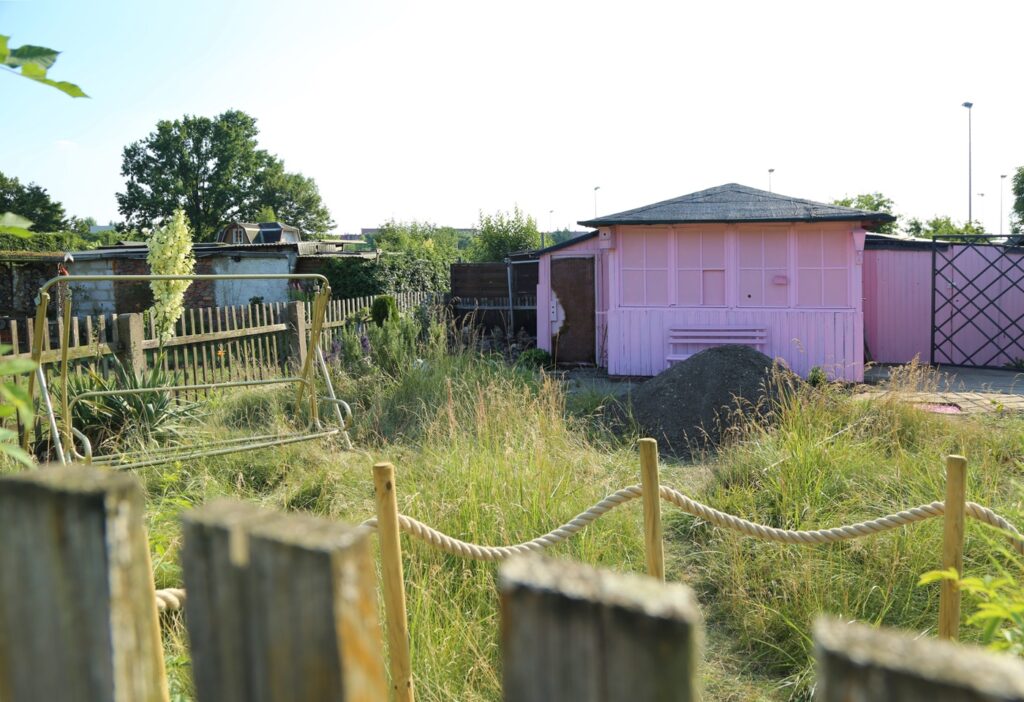 THE MAKING OF (3:34 min) ver­han­delt Fra­gen an den Begriff der Natür­lichkeit und an die soziale Kon­struk­tion von Geschlecht.
THE MAKING OF (3:34 min) deals with ques­tions about the con­cept of nat­u­ral­ness and the social con­struc­tion of gen­der.